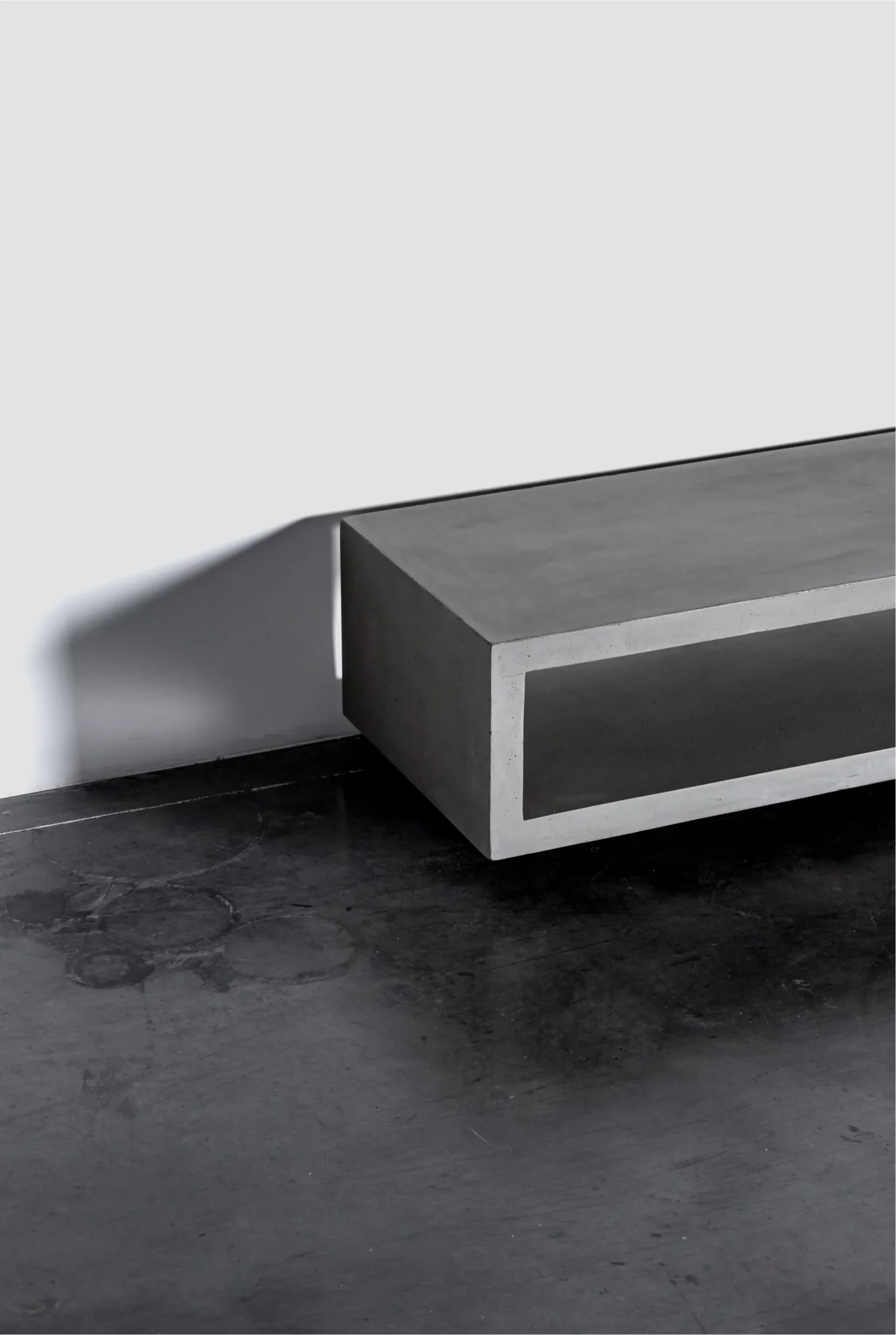 Our Styles of Concrete TV Stands
You're familiar with our design principles: drawing inspiration from architecture, understanding material constraints to use them intelligently, and adding that special touch that sets us apart.

Add to that the talent and personality of the designers we collaborate with, and you get TV stands made of concrete (but not just concrete) with a unique style.

Some of our concrete TV stands have a minimalist or even brutalist style, while others incorporate a touch of Scandinavian design inspired by the designers of the 1950s, with the addition of light wood elements.
Which Interior Styles Are Suitable for Concrete TV Stands
One of the major advantages of using concrete for a TV stand is that its mineral and raw nature easily complements many interior styles. If you're into a loft or industrial-style decor, you're probably already convinced. However, concrete, especially with the TV stands offered by our designers, also pairs very well with subtler styles like Scandinavian design, Japandi, or Wabi-sabi. In a more classic setting, a concrete TV stand becomes a characterful design element that adds personality to your living room.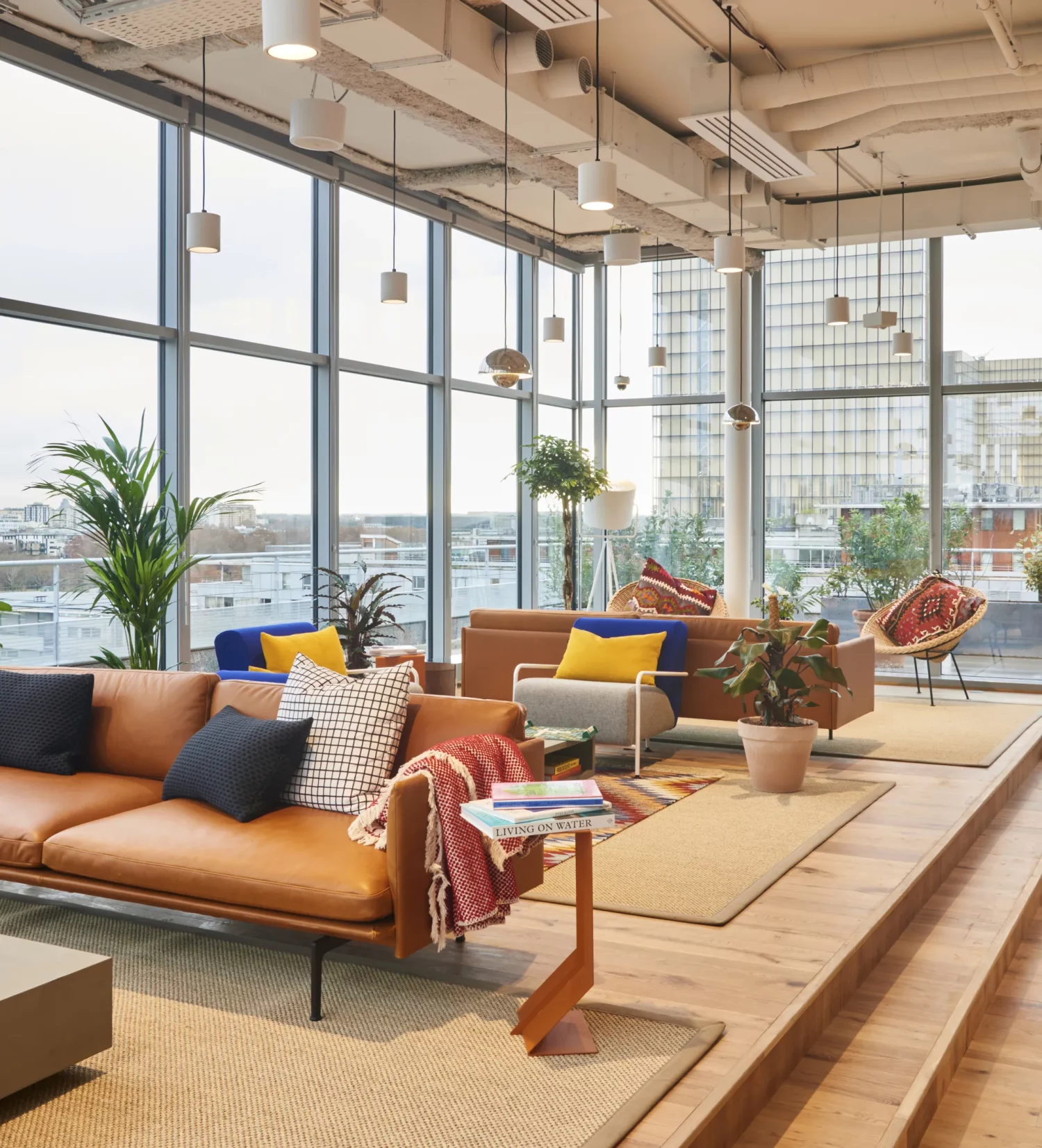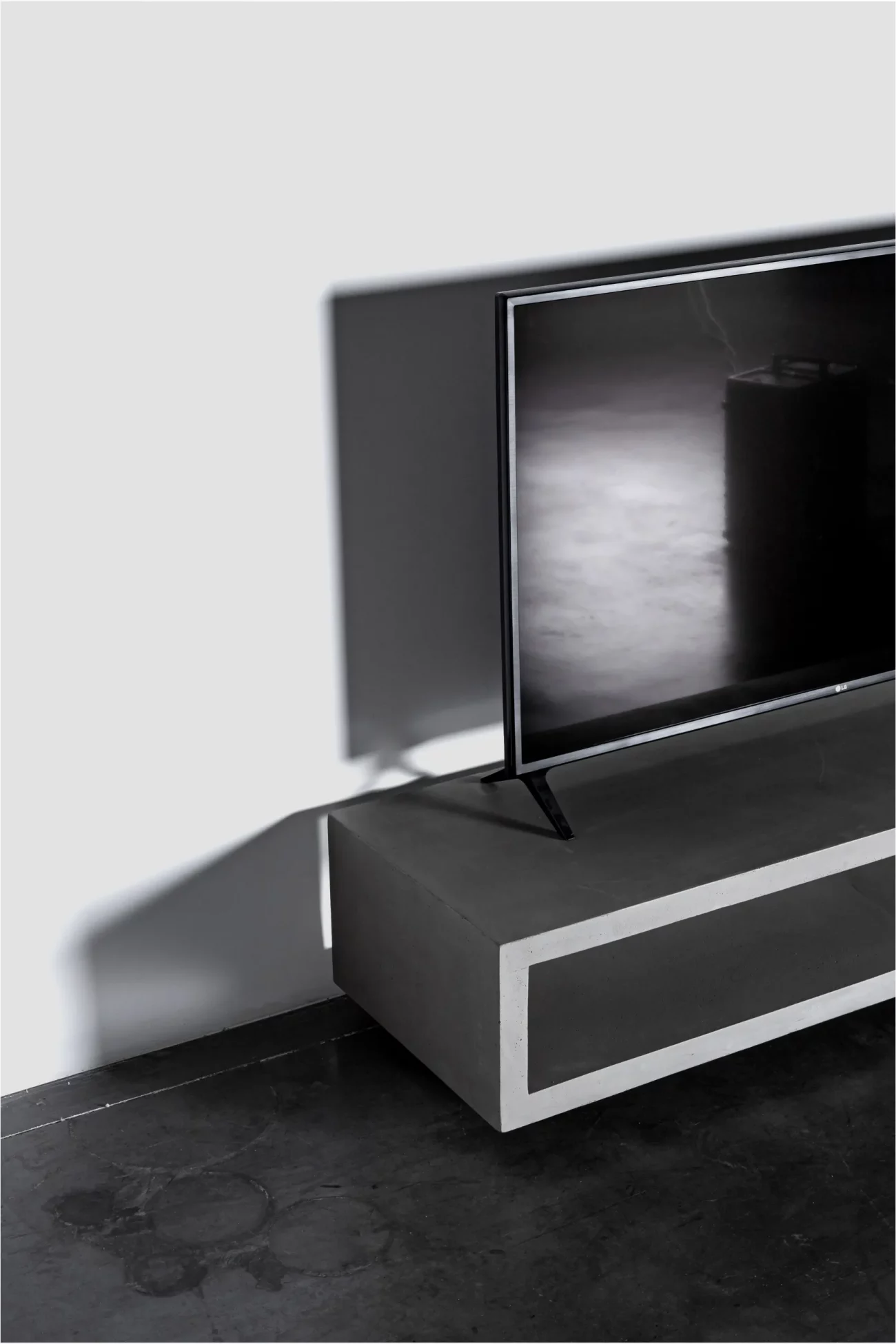 Concrete is a Technically Fascinating Material for Making a TV Stand
When you place a brand-new flat-screen TV on a TV stand, you want it to be stable and sturdy. Our concrete TV stands will put your mind at ease. The density of concrete and the meticulous craftsmanship of our concrete furniture are real assets for a durable and quality TV stand.


Moreover, concrete has highly favorable acoustic properties when you want to place a soundbar on your TV stand. Our modular concrete cube system combines the density of concrete with flexible rubber connectors to dampen vibrations. The acoustic quality of your TV and hi-fi sound will instantly improve.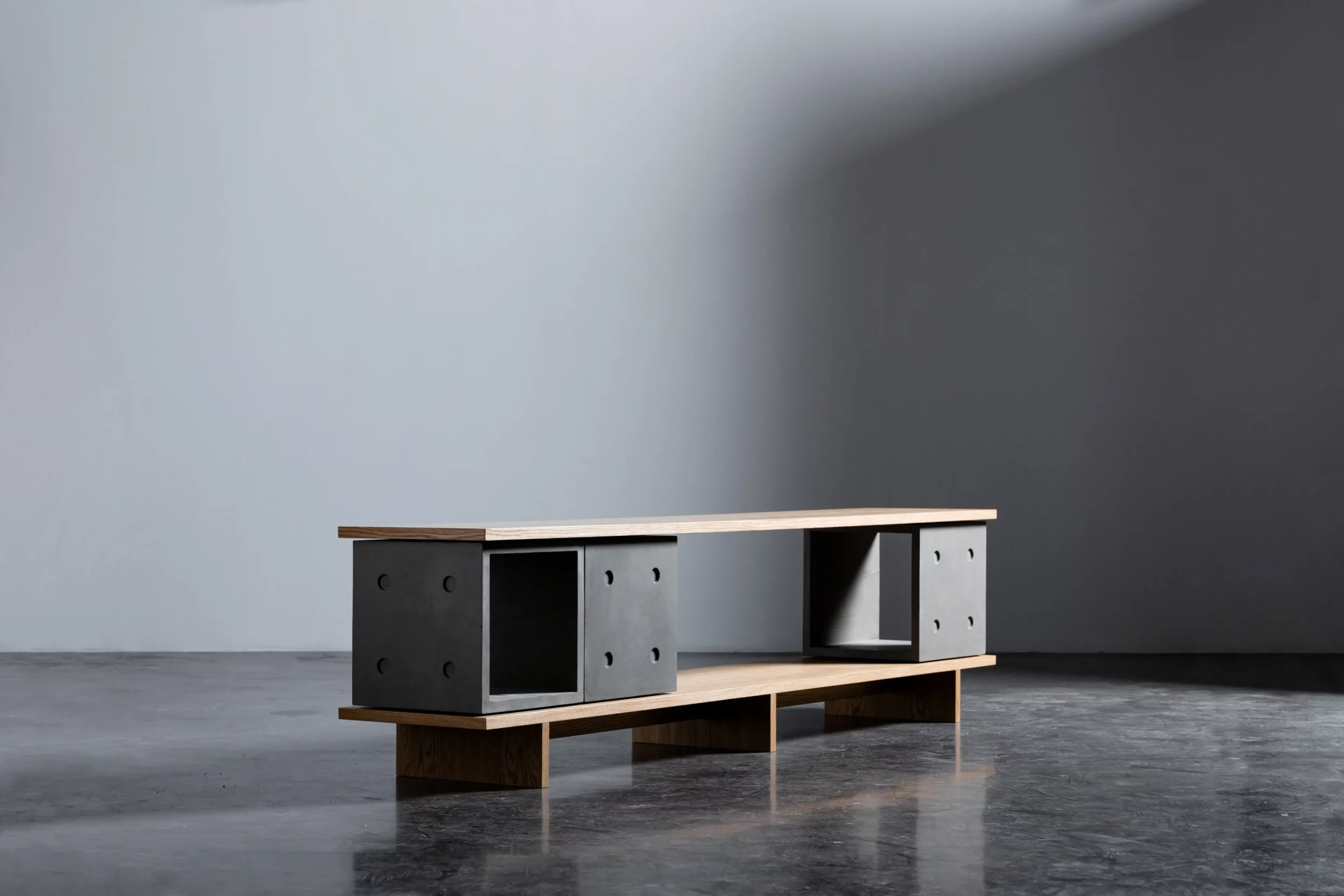 Our Collections That Include Concrete TV Stands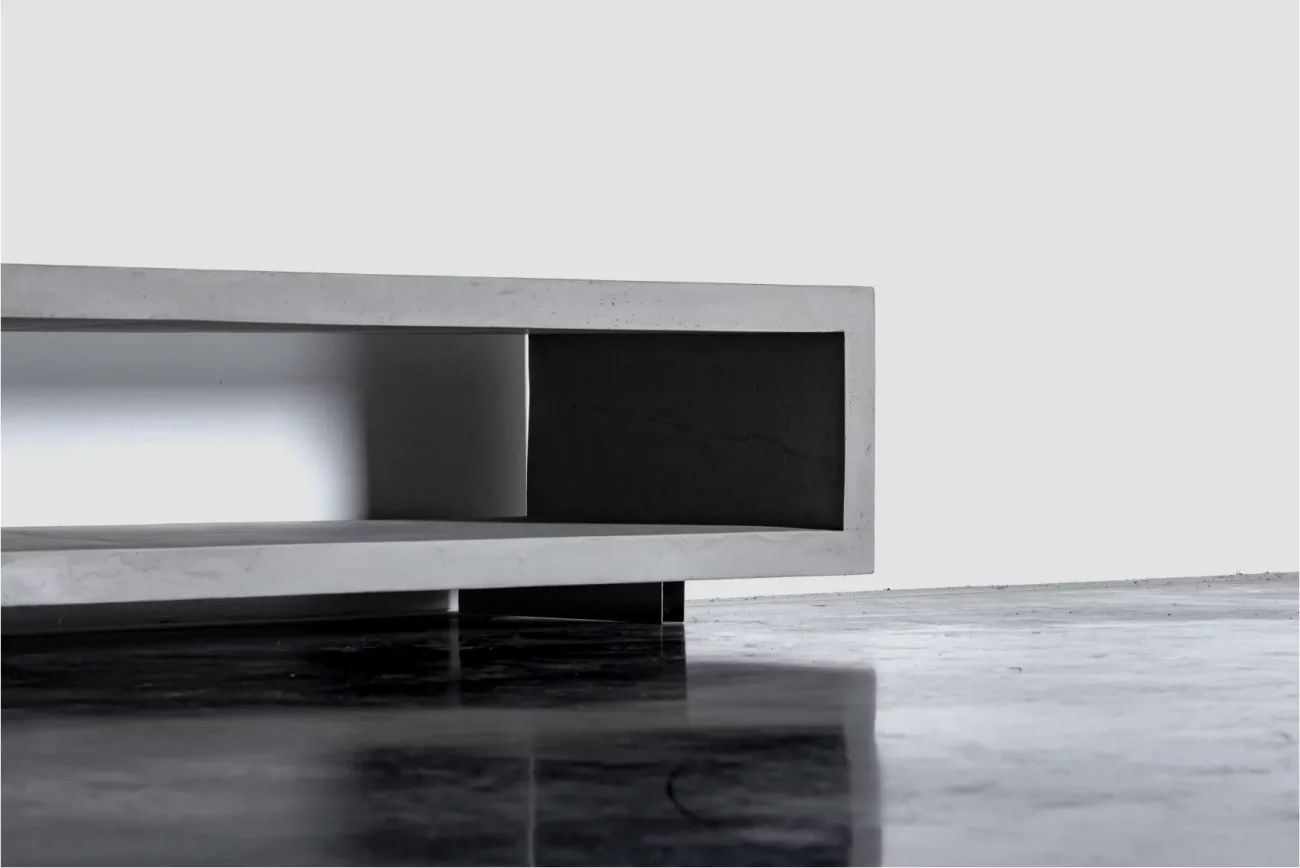 We have two collections that offer concrete TV stands.
The first is the collection of 100% monobloc concrete furniture. As the name suggests, pieces in this collection are formed from a single cast concrete block. The concrete TV stand in this collection provides a storage niche for your TV box, DVD player, and is a perfect fit for a soundbar.
The second collection is, in fact, our Dice modular storage system. These are concrete cubes that assemble like Lego bricks using invisible rubber connectors. This clever system allows you to create your custom TV stand. In fact, it allows you to create various types of furniture: concrete buffets, sideboards, nightstands, bookshelves, and more. We've paired them with wooden modules that expand the possibilities by adding a warmer touch with natural light oak veneer. The low wooden and concrete buffets and sideboards from this collection make stunning TV stands.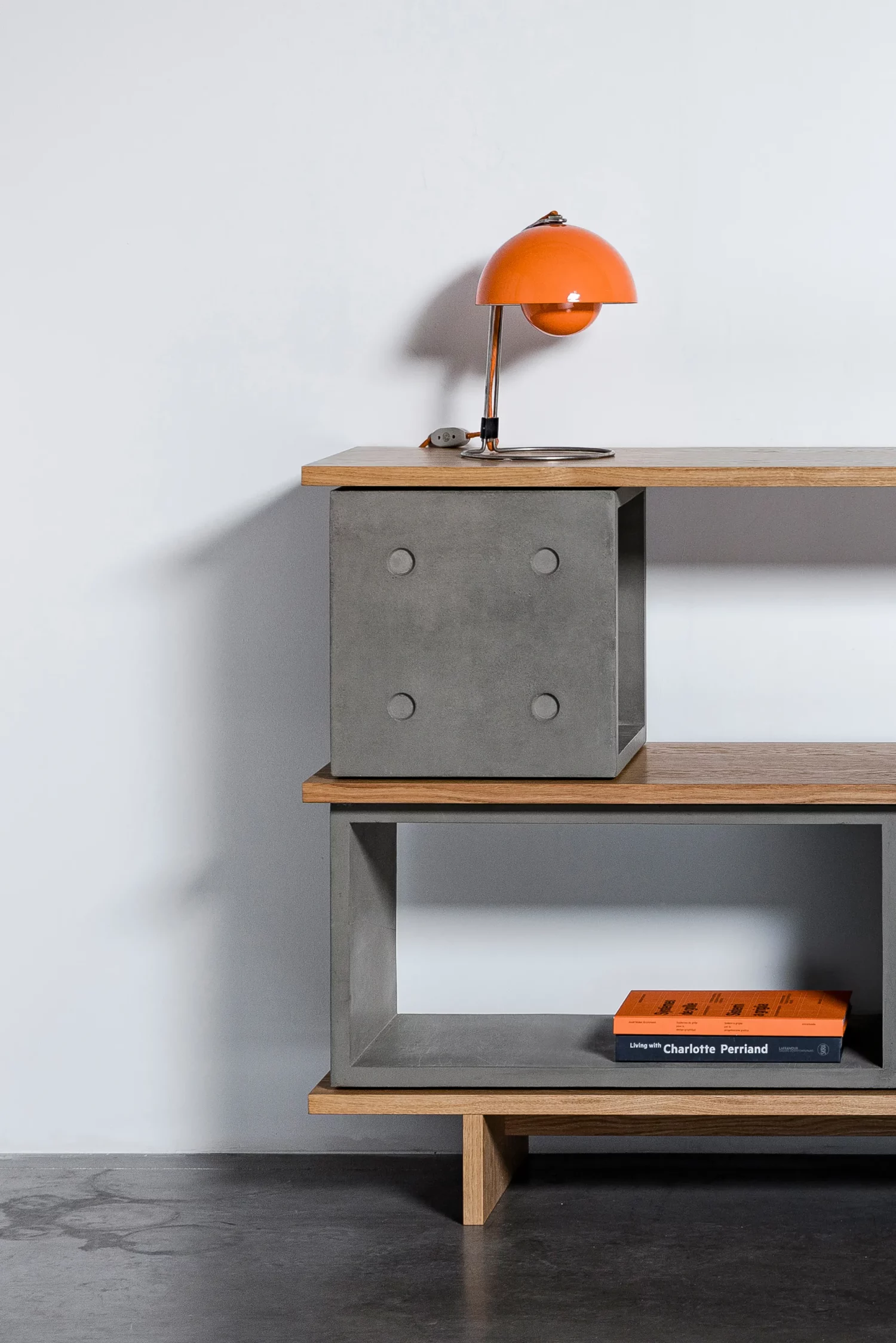 Using a Concrete Buffet as a TV Stand
What if we go back to using a buffet as a TV stand? With our Dice concrete cubes, you can create a custom concrete TV stand, with or without a wooden shelf.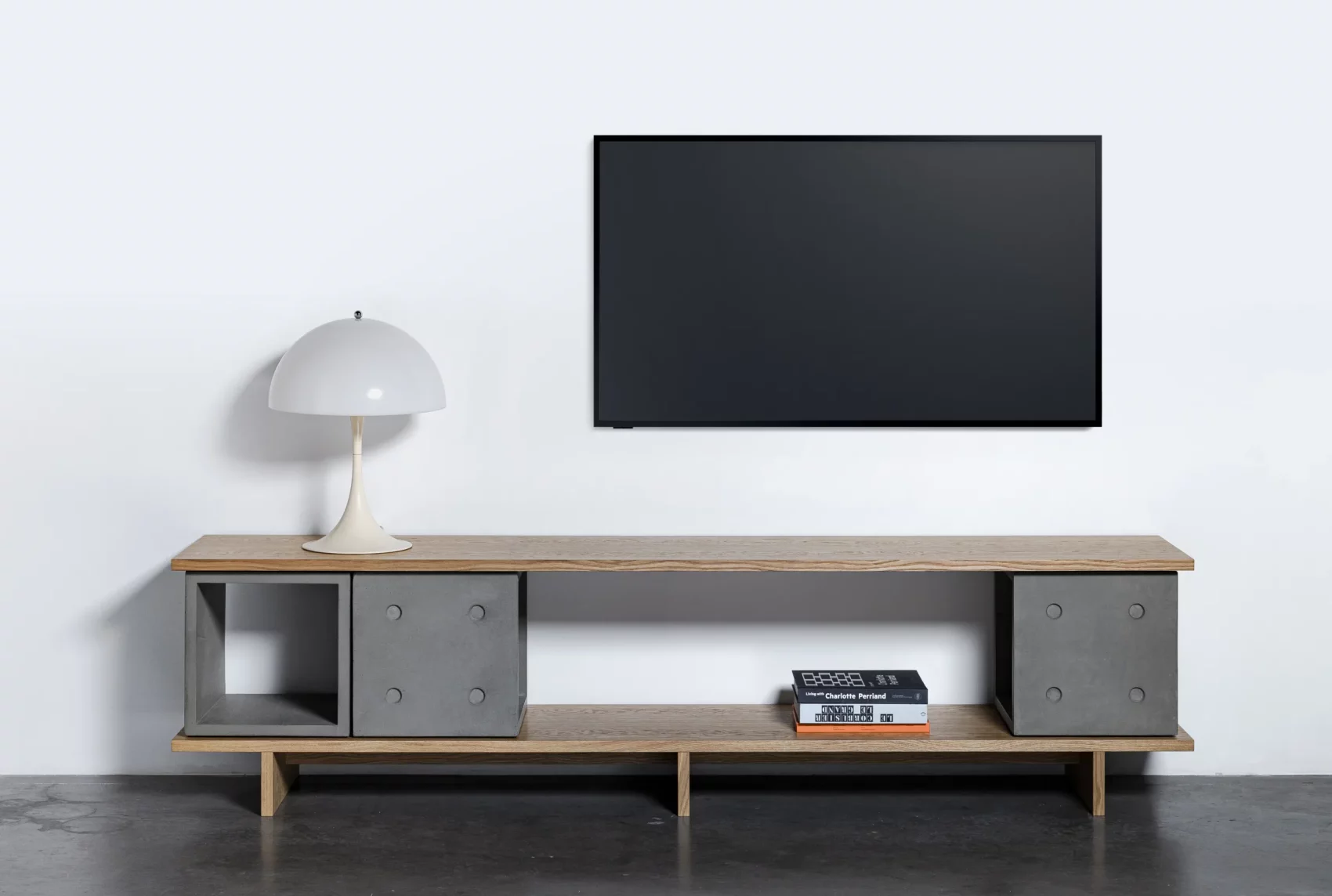 Using a Concrete Sideboard as a TV Stand
Are you more into a low seating area with an enveloping sofa like the Togo? We recommend positioning your television at a reasonable height. The low concrete and wooden sideboards from the Dice collection are perfect for this purpose.
Notice that they also work well if your living room seating is higher, your flat-screen is wall-mounted, and you want to store your TV box, DVD player, and more.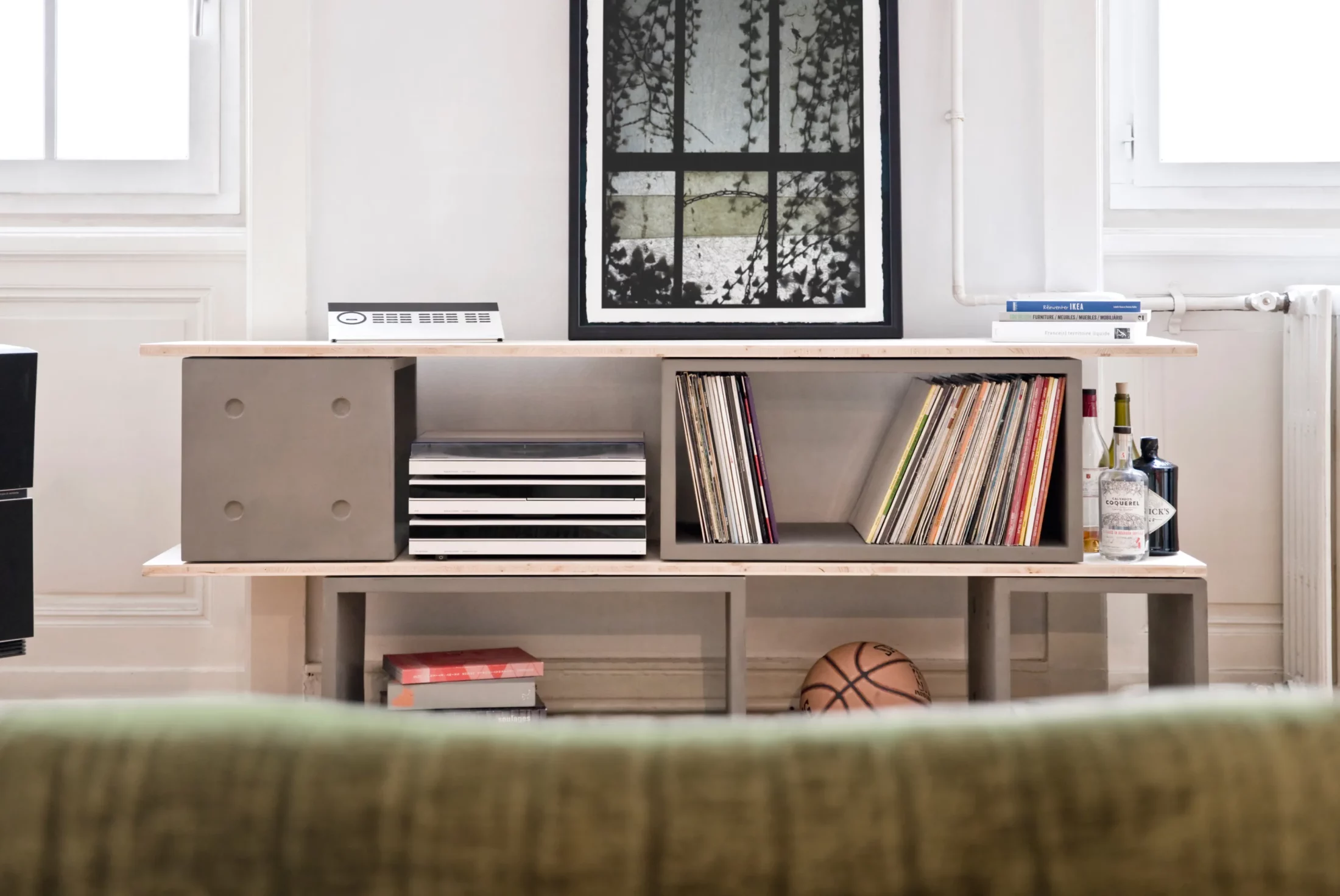 Customize Your Concrete TV Stand with Our Dice Concrete Cubes
Use our Dice collection concrete cubes to create your custom TV/Hi-fi stand. With or without wooden legs and shelves, it's up to you to decide. The combinations are endless.
By orienting the concrete cubes with a solid face toward you, you can conceal unsightly elements surrounding your flat-screen, such as TV boxes or DVD players, while still having space for a soundbar or a high-quality home cinema hi-fi system.
Lyon Béton's Concrete TV Stands: A Sustainable Choice
No need to repeat it, our concrete TV stands, like all our concrete furniture, are built to last. With minimal care, they will outlive you. And since their style is timeless, you won't tire of them. Say goodbye to the disposable furniture trend, even for TV stands.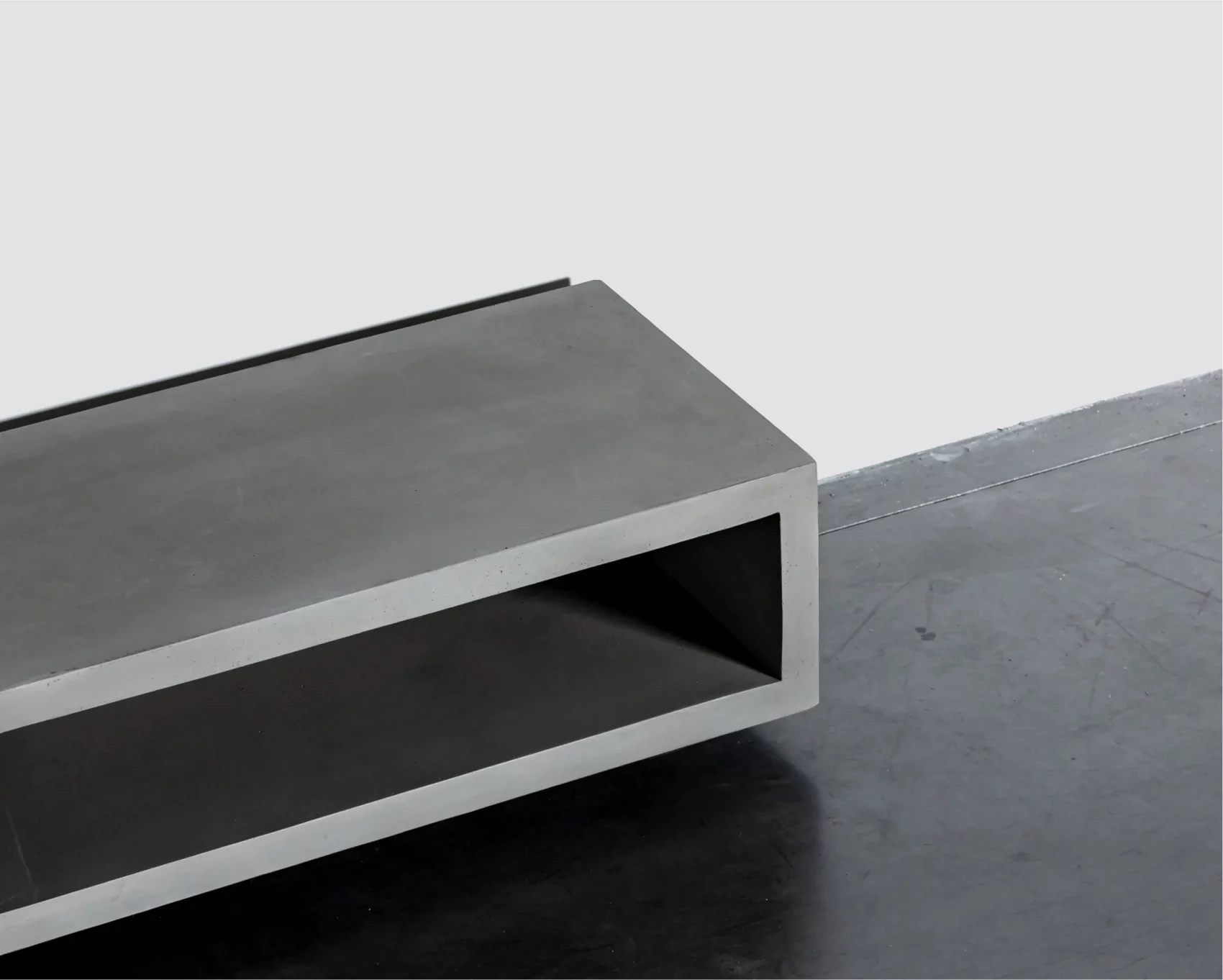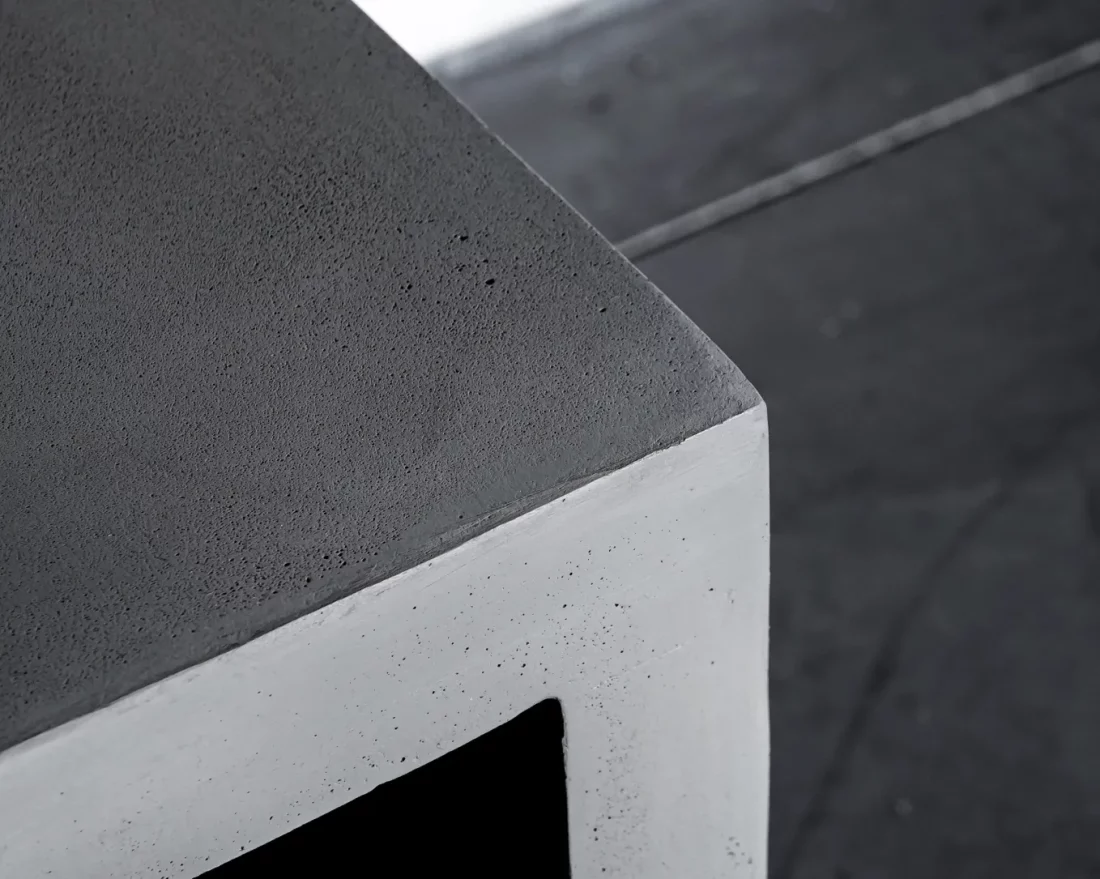 Maintenance and Care for Concrete TV Stands
While concrete TV stands are highly durable and resistant, they still require minimal maintenance to maintain their appearance and quality. Do not use abrasive products or utensils to clean your concrete TV stand. A soft cloth is sufficient.